Deptford X Festival 2018
21 – 30 September 2018
Since 1999 Deptford X has brought an annual art extravaganza to the unique setting of Deptford, combining work by invited artists with that of the area's diverse creative communities. Since 2016, a revitalised programme has focused on commissioning cutting-edge work by emerging artists and a radically open, artist-centred approach.

The festival ran over ten action-packed days and took place in a wide range of public sites and spaces. It had two central elements: the curated Platform programme and the open Fringe programme. In addition we presented a commissioned Special Project and organised a range of artist talks, walking tours and learning activities.

The festival was and will remain free and open to everyone.

Our Festival Hub was located at St Paul's House, 1 Market Yard, SE8 4BX.
Platform 2018
Five emerging artists, five new works in public space.

Introduced in 2016, the Platform programme sits alongside the Fringe at the heart of the festival. Each year 5 emerging artists are invited to produce ambitious new works for public sites around Deptford. The festival installations are a high profile public showcase for the participating artists and for cutting edge contemporary work in public space.
The Platform artists are nominated by a panel of 5 experts — artists, teachers, curators and writers — who each provide 3 names and a statement explaining their selection. After further research and studio visits 5 artists are selected, one from each nominator, on the basis of how the projects will work together, and in relation to specific sites, in the context of the festival.
The programme is intended to provide a group of emerging artists with support at a pivotal moment in their careers. This takes a number of forms: the opportunity to make and present new work; curatorial and operational support; expert feedback, mentoring and networking opportunities.
This year's nominators were:
Fringe 2018
A vibrant open programme of independent projects.

Relaunched in 2016, the Fringe sits alongside the Platform programme at the heart of the festival. Each year Deptford X extends an open call to artists, groups, curators and gallerists to contribute to the forthcoming festival through exhibitions, performances, screenings, open studios, workshops and other events. Supported and facilitated by Deptford X, the Fringe celebrates the strength and diversity of contemporary art practice, with a focus on the work of local artists.
This year, the Fringe was bigger than ever, with almost 100 projects taking place across 62 venues.
*We depend on Fringe project organisers for information about wheelchair accessibility and have displayed relevant info on each fringe page. We recommend that wherever possible you double-check with venues before you visit.
All Fringe projects are below, in alphabetical order.To search projects by day or type, please use the '
festival programme
' page.
Special Project 2018 - Louise Ashcroft
Party Platforms

Festival Hub, St Paul's House, 1 Market Yard, SE8 4BX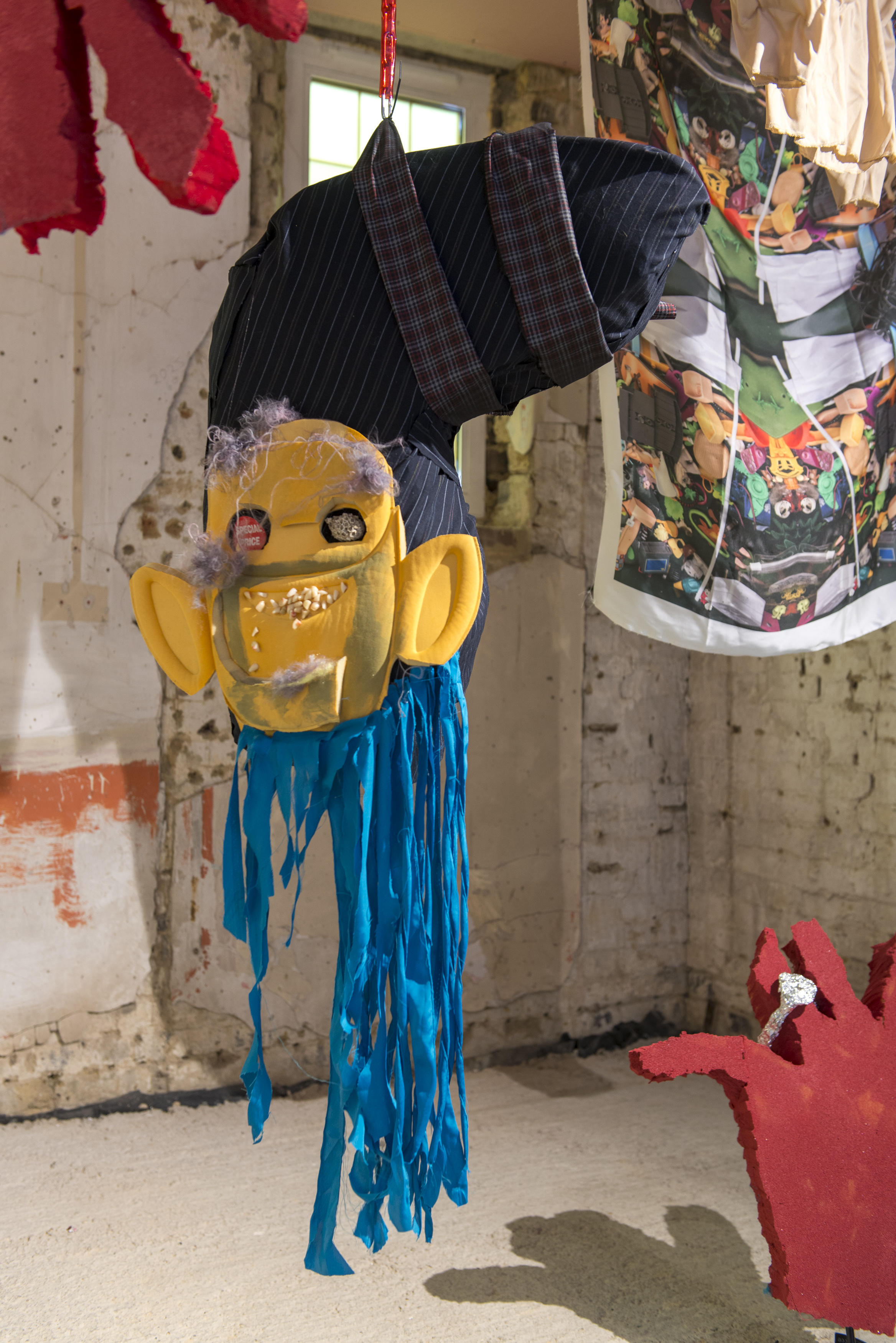 Louise Ashcroft presented an 'installed reliquary' from her Special Project – a series of works that performatively reinterpret words gleaned from the festival's Data Protection Policy, a document that exemplifies the less glamorous work that goes into running a small arts organisation.
The works reflected on how we value individuality and peculiarity. They included sculptural gifts made for local business owners/residents designed to ward off threats that they identified to Louise, live storytelling that over-analysed the house clearance stalls of Deptford Market, a paper-trail of drawing conversations she's had with penpals, a tea set made of bodily imprints of the festival's Board of Trustees, and a costume for a local mascot based on a collaboration with a local community group. The first four people that obliged were given a free haircut voucher (worth £50+), redeemable at Tuttii Fruittii (2C Douglas Way, Deptford SE8 4AG) who created a geometric pattern undercut based on criss-crossed wreckage traced from an archival image of Deptford Blitz rubble.
Each work took its title from words in the festival's Data Protection Policy, which served as a set of instructions for the project, as though bringing this uncharismatic document to life.
Performances
:
Stand-up piece with vocal interlude by Megan Jenkins
20:00 on Fri 21 Sept
Festival Hub, St Paul's House, 1 Market Yard, SE8 4BX
Artist Talk
, with clay workshop in collaboration with Lily German
15:00 on Sat 22 Sept
Festival Hub, St Paul's House, 1 Market Yard, SE8 4BX
Performance tours of Deptford X Fringe
16:30 on Sat 22, Sun 23, Thu 27 and Fri 28 Sept
Festival Hub, St Paul's House, 1 Market Yard, SE8 4BX
Special Projects are occasional, self-contained commissions that operate outside the curatorial framework of the festival's two central programmes.
Louise Ashcroft is trying to overthrow capitalism but keeps getting distracted by the new Nike SB Lunar One-Shots. She makes performances and installations which recontextualise objects and observations discovered through fieldwork in ordinary places like shopping malls, strangers' houses, or trade fairs.
She has shown widely including at Latitude Festival, The Government Art Collection, Arebyte, Artsadmin, BBC iPlayer, Boring conference, Koppel Project, Turner Contemporary, Coastal Currents Festival, TEDx Hackney, with publicly engaged residencies at Tate and Camden Arts Centre. Louise runs the comical performance night Unperforming, is co-founder of free art school AltMFA, and teaches at Goldsmiths and UCA.
Louise Ashcroft is based in London.
Louise Ashcroft
:
︎
︎
Image 1: Mascot for Deptford make in collaboration with a local community group.
Image 2 & 3: Installation shots
Image 4: Object to promote community intimacy, made for a local shopkeeper to respond to his concern about losing close personal connection with some customers now many go to the ASDA instead.
Image 5: Stand-up piece with vocal interlude by Megan Jenkins.
Deptford X Newsletter

Deptford X complies with the Data Protection Act 1998 and subsequent UK law and regulations including the Privacy and Electronic Communications Regulations. You retain the right to opt-out of future correspondence at any point.


We will not pass your details onto third parties.
We use MailChimp to store our recipient lists – all data is stored on a secure server in the USA for the purposes of email newsletter distribution. Under the terms of their Privacy Policy, they endeavour not to, under any circumstances, contact people on our lists, market to people on our lists, sell our lists, or share our lists with any other party, except as required by law or, regarding contacting, except in response to a complaint or other communication directly from an individual on one of our lists. If you would prefer that your data is not stored in this manner, you have the right to opt out from further communications at any point.
Shawanda Corbett
Evocation of Buked
Festival Hub, St Paul's House, 1 Market Yard, SE8 4BX

A live performance exploring the biblical and social implications of disability during slavery. The piece portrays the experiences of undocumented disabled female slaves in post-colonial Mississippi. What happened to those on plantations who could not breed or do physical work? What did these women experience as able-bodied slaves escaped? What were the implications for their own well-being and continued life? The Bible used figures with physical limitations and deformities as messengers or lessons that exposed the afflictions of society. The atrocities of slavery, the actions of their own families, and the misappropriation of biblical text were complicit in the silencing of disabled female slaves.
Evocation of Buked
captures their internal dialogue with God. The performance is accompanied by the negro spiritual song
I Been Buked
.
Shawanda Corbett works with film, photography, performance, text and ceramics. Her practice draws on an extensive knowledge of African, European and other artistic traditions. Corbett trained initially as a painter but soon began to experiment with ceramics, attracted in part by the medium's collaborative aspects. From clay pots she moved on to sculpture, working with porcelain and then iron. Her influences range far and wide, from Charlie Chaplin to African American history, John Akomfrah to Jan van Eyck, African studies to Jacob Lawrence.
Shawanda Corbett is based in Oxford. She studied Fine Art at Rochester Institute of Technology, New York (2013-16) and the Ruskin School of Art (2016-17).
Shawanda Corbett was nominated for Platform 2018 by Oreet Ashery (artist).

Shawanda's work confronts race and disability. In her MFA degree show performance at the Ruskin School of Art in 2017 she presented two wearable wooden sculptures, one that she wore herself and the other worn by an able-bodied performer. The gigantic, Bauhausesque, bell-like structures revealed only the two heads of the performers. Both figures elegantly glided up over a wooden platform. The performance was ambitious, economical and incredibly effective.
-Oreet Ashery
Shawanda Corbett ↗
Oreet Ashery ↗
Wheelchair accessible.
Georgia Lucas-Going
Home is Where the Work Starts 1988

DAGE (Deptford Action Group for the Elderly), 71 Deptford High Street, SE8 4AA
This new piece involves three generations of my family who have all lost their greatest loves. A family of women outliving their male counterparts. Habits & rituals, physicality & taking up space. The joys of surviving still plump our skin.
What is better than the place where you take your shoes off (If you don't, you should)? Sink into the stuffing and watch the TV glow off of their faces. The art started at home, so why not finish it there? Accessible to all and no one. Institutions are overrated & stepping in is only done by some.

This new piece of work has been filmed in various locations in and on the outskirts of London. From Luton, then everywhere in-between, and Deptford is where it will end. I wanted to dismantle any hierarchies or boundaries that may arise when viewing art in institutions or gentrified areas. Familiar spaces or objects that are known to nearly all – and to the people of Deptford. The TV symbolises the first world: the object most desired by people of the 80s and 90s. There is no power-play here. Watch the art without being watched.
Georgia Lucas-Going was born in Luton and is based in London. She studied Fine Art at Leeds Arts University (2007-10) and the Slade School of Fine Art (2015-17). Georgia is currently a scholar at the Lee Alexander McQueen Foundation. Her work exists in a range of mediums from installation to sculpture, performance and video art - the work confronts themes of stereotypes and power dynamics, also exploring humour and self taught 'survival techniques'.
Georgia Lucas-Going was nominated for Platform 2018 by Melanie Keen, Director of Iniva.
My reason for nominating Georgia is that as an artist using performance and moving image, she prefaces the female body as central, as dominant, as material at a moment when women's bodies are paradoxically subject to immense scrutiny and violation as much as being revered as a powerful collective political force. With the erosion of black spaces and queer spaces her practice attempts to push against this retrenchment in unexpected, bold, coercive ways.
-Melanie Keen
Georgia Lucas-Going
:
︎
︎
Melanie Keen
:
︎
︎
Wheelchair accessible.
David Steans
From the Lounge
Deptford Lounge, Giffin Square, SE8 4RJ
David Steans' project revolves around a book of experimental short horror stories, written by the artist. The book collects new, revised and previously unpublished stories, some of which draw inspiration from the context of Deptford, the venue and the festival itself.
Visitors can still borrow or browse the book at their leisure in the library. There were daily readings by Deptford Lounge staff and two performances that related to one of the stories, 'Foul Shot', about an allegedly haunted basketball court. The book is published by Deptford X in a first edition of 300, with cover image and design by Stef Sadler.
Deptford Lounge opening times: Mon-Fri 08:00 - 22.00, Sat 09:00 - 17:00, Sun 10:00 - 17:00
Book
: Available to browse or borrow in the library; please inquire at front desk. The book is also available at the following South London libraries: Blackheath, Catford, Crofton Park, Downham, Forest Hill, Grove Park, Manor House, New Cross, Pepys, Sydenham and Torridon.
Purchase:
Copies of the book are available to buy online from
Bone House Books
for £11.
WARNING: the book contains material that some may find offensive/upsetting. Reader discretion is advised.
David Steans' practice encompasses written fiction, moving image, performance, installation and music. He takes a cue from broadly postmodern approaches to fiction and narrative in art, literature and moving image media, and is particularly interested in employing the 'blurring' of fact and fiction as a creative method. Recent work has used horror, humour and reflexive storytelling to complicate familiar representations and narratives.
David Steans is based in Leeds. He studied at Leeds Beckett University (2004-2007), and was a participant in the founding year of The School of the Damned (2014).
David Steans was nominated for Platform 2018 by Bryony Bond (Creative Director of The Tetley, Leeds).
David's work feels strangely achronistic, by which I specifically mean without time. It doesn't feel wildly fashionable, which I think is a good thing, and it is strangely obsessed with the ancient past, with story-telling and myth, not to mention Wetherspoons pubs (although I think Brexit may have had an impact on that particular obsession). David also just does things – performances, films, writing. He created the character of a food critic, whose persona was slowly revealed in a series of restaurant reviews released over a number of years. David resurrected the character to write about a dinner devised by another artist at The Tetley (thetetley.org); the resultant article cleverly mimicked the language of the food critic in a wry take on art. Funny, smart and irreverent.
-Bryony Bond
David Steans
:
︎
︎
Bryony Bond
:
︎
Wheelchair accessible.
NT
Fox

Unit 4, Carriage Way (Deptford Market Yard), SE8 4BZ

A video installation exploring parallels between representations of the urban fox and 'urban' youth. Focusing on a lone youngster as he travels through the night, the film poses questions about the boy's presence, as that which is tolerated and often hidden from consciousness – viewed as menacing, but also shrewd, fearless, and adapted to the environment.
The word urban now has 2 distinct meanings. The first relates to the characteristics of a densely populated town or a city. The second, adopted from the US, denotes popular 'black culture'. In this context the word often becomes a substitute for 'black'.
Looking is not a simple task or action.
Every artist wants their work to be looked at. Every artist courts the gaze of the viewer.
As an artist I am no different. I am interested in the awareness of the 'gaze' and the aspect of looking, whether it is by the artist, the camera lens, or the viewer, and the tension that arises from the courtship of the gaze by the subject-artist-lens. This extends into how strategies of disruption can interfere and interrupt the gaze, as well as bring about change. I am also interested in how the outcomes of such actions are then interpreted or misinterpreted. As a result of this approach, the media used have incorporated film, sound, performance, photography, installation and print.
NT works with a range of media including film, sound and performance. Their work currently explores the relationships and interconnectedness of people, place, time and history, as well as the interplay between image, language, gesture and sound, all in an attempt to elicit that which is forgotten, hidden and overlooked.
NT is based in London, and studied Fine Art at Central Saint Martins (2008-11) and the Royal College of Art (2011-13).
NT was nominated for Platform 2018 by Larry Achiampong (artist).
NT ↗
Larry Achaimpong
:
︎
Wheelchair accessible.
Laura Yuile
A Logo Stands Out Against a Soiled Background
Unit 5, Carriage Way (Deptford Market Yard), SE8 4BZ
Laura presented a film within a sculptural installation – an arrangement of pebble-dashed household appliances. Her recent work and research has focused on the shifting boundaries between public and private space, in particular the negative implications of smart domestic appliances. The 'invisible' potential of networked appliances seem at odds with their bulky forms and disposability. Assuming a fragmented, house-like form, Laura's pebble-dashed white goods suggested a life rooted to and dependent upon buildings and objects that will outlive us.
The film is composed from corporate stock footage and new footage staged and shot by the artist. The latter centres on the changing urban landscape of East London. Parallels are drawn between tattooed skin and urban graffiti, decorated surfaces that occupy the border between inside and outside, inclusion and exclusion. These markings serve to both animate the film and reframe the spaces they inhabit.
Laura Yuile creates installations of object and video-based works that speak to multiple senses and and are activated by performance. Her work explores the domestic and the urban; personal care and household maintenance; wellness and well-being; and the effects of globalisation upon living space. Projects include Comfort Zones – a series of symposia on the subject of comfort zones held in the showrooms of IKEA stores in the UK and China; and a bus tour to a landfill site for Global Shadow Local Mist. Born in Glasgow, Yuile studied Fine Art at Goldsmiths, University of London (2015-17), and GlasgowSchool of Art (2004-8). She was an Associate Artist with Open School East (2015), and is currently based in London.
Laura Yuile was nominated for Platform 2018 by Sarah McCrory (Director of Goldsmiths Centre for Contemporary Art).
Laura Yuile
:
︎
Sarah McCrory
:
︎
︎
Wheelchair accessible.