Deptford X Festival 2018
21 – 30 September 2018
Since 1999 Deptford X has brought an annual art extravaganza to the unique setting of Deptford, combining work by invited artists with that of the area's diverse creative communities. Since 2016, a revitalised programme has focused on commissioning cutting-edge work by emerging artists and a radically open, artist-centred approach.

The festival ran over ten action-packed days and took place in a wide range of public sites and spaces. It had two central elements: the curated Platform programme and the open Fringe programme. In addition we presented a commissioned Special Project and organised a range of artist talks, walking tours and learning activities.

The festival was and will remain free and open to everyone.

Our Festival Hub was located at St Paul's House, 1 Market Yard, SE8 4BX.
Platform 2018
Five emerging artists, five new works in public space.

Introduced in 2016, the Platform programme sits alongside the Fringe at the heart of the festival. Each year 5 emerging artists are invited to produce ambitious new works for public sites around Deptford. The festival installations are a high profile public showcase for the participating artists and for cutting edge contemporary work in public space.
The Platform artists are nominated by a panel of 5 experts — artists, teachers, curators and writers — who each provide 3 names and a statement explaining their selection. After further research and studio visits 5 artists are selected, one from each nominator, on the basis of how the projects will work together, and in relation to specific sites, in the context of the festival.
The programme is intended to provide a group of emerging artists with support at a pivotal moment in their careers. This takes a number of forms: the opportunity to make and present new work; curatorial and operational support; expert feedback, mentoring and networking opportunities.
This year's nominators were:
Fringe 2018
A vibrant open programme of independent projects.

Relaunched in 2016, the Fringe sits alongside the Platform programme at the heart of the festival. Each year Deptford X extends an open call to artists, groups, curators and gallerists to contribute to the forthcoming festival through exhibitions, performances, screenings, open studios, workshops and other events. Supported and facilitated by Deptford X, the Fringe celebrates the strength and diversity of contemporary art practice, with a focus on the work of local artists.
This year, the Fringe was bigger than ever, with almost 100 projects taking place across 62 venues.
*We depend on Fringe project organisers for information about wheelchair accessibility and have displayed relevant info on each fringe page. We recommend that wherever possible you double-check with venues before you visit.
All Fringe projects are below, in alphabetical order.To search projects by day or type, please use the '
festival programme
' page.
Special Project 2018 - Louise Ashcroft
Party Platforms

Festival Hub, St Paul's House, 1 Market Yard, SE8 4BX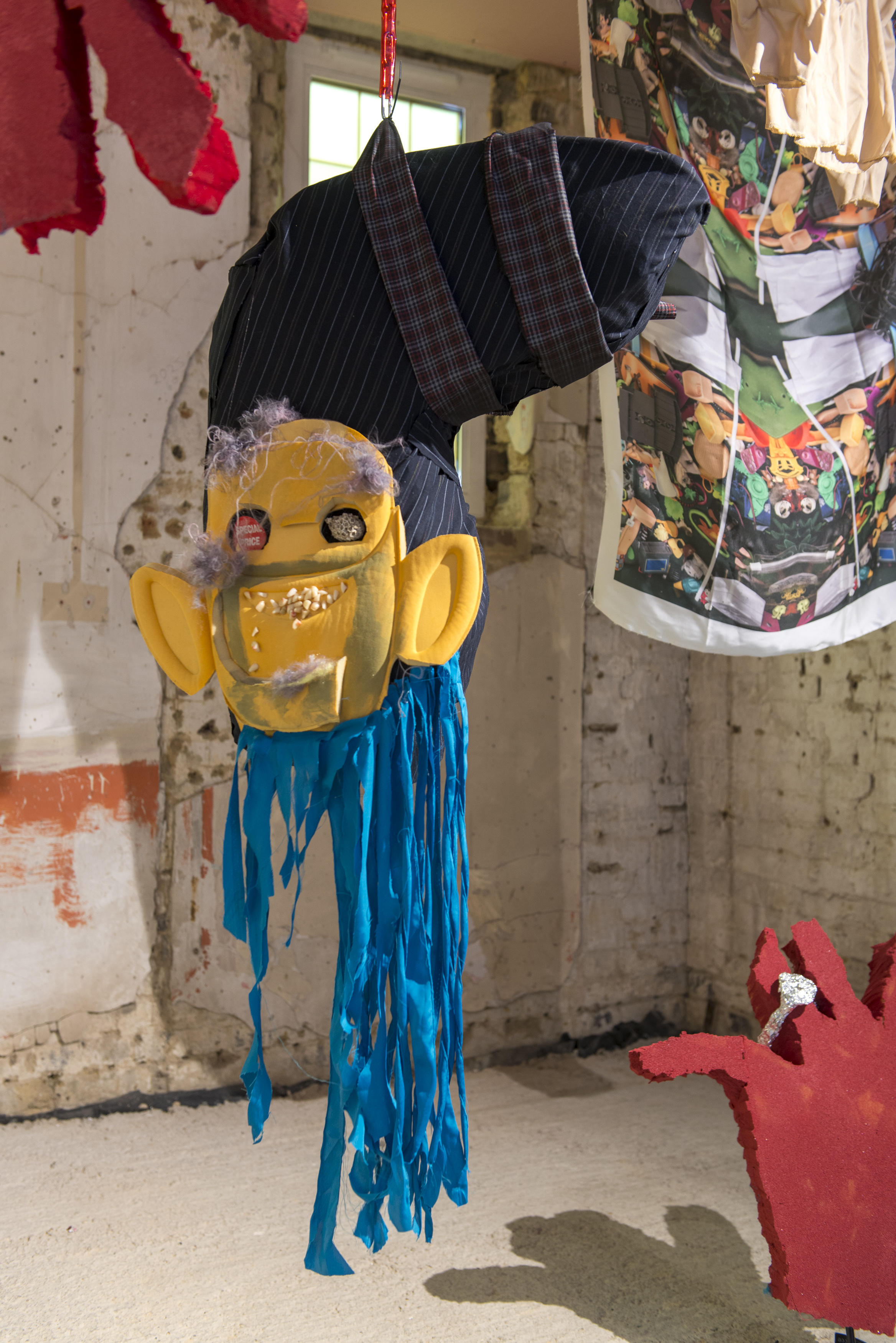 Louise Ashcroft presented an 'installed reliquary' from her Special Project – a series of works that performatively reinterpret words gleaned from the festival's Data Protection Policy, a document that exemplifies the less glamorous work that goes into running a small arts organisation.
The works reflected on how we value individuality and peculiarity. They included sculptural gifts made for local business owners/residents designed to ward off threats that they identified to Louise, live storytelling that over-analysed the house clearance stalls of Deptford Market, a paper-trail of drawing conversations she's had with penpals, a tea set made of bodily imprints of the festival's Board of Trustees, and a costume for a local mascot based on a collaboration with a local community group. The first four people that obliged were given a free haircut voucher (worth £50+), redeemable at Tuttii Fruittii (2C Douglas Way, Deptford SE8 4AG) who created a geometric pattern undercut based on criss-crossed wreckage traced from an archival image of Deptford Blitz rubble.
Each work took its title from words in the festival's Data Protection Policy, which served as a set of instructions for the project, as though bringing this uncharismatic document to life.
Performances
:
Stand-up piece with vocal interlude by Megan Jenkins
20:00 on Fri 21 Sept
Festival Hub, St Paul's House, 1 Market Yard, SE8 4BX
Artist Talk
, with clay workshop in collaboration with Lily German
15:00 on Sat 22 Sept
Festival Hub, St Paul's House, 1 Market Yard, SE8 4BX
Performance tours of Deptford X Fringe
16:30 on Sat 22, Sun 23, Thu 27 and Fri 28 Sept
Festival Hub, St Paul's House, 1 Market Yard, SE8 4BX
Special Projects are occasional, self-contained commissions that operate outside the curatorial framework of the festival's two central programmes.
Louise Ashcroft is trying to overthrow capitalism but keeps getting distracted by the new Nike SB Lunar One-Shots. She makes performances and installations which recontextualise objects and observations discovered through fieldwork in ordinary places like shopping malls, strangers' houses, or trade fairs.
She has shown widely including at Latitude Festival, The Government Art Collection, Arebyte, Artsadmin, BBC iPlayer, Boring conference, Koppel Project, Turner Contemporary, Coastal Currents Festival, TEDx Hackney, with publicly engaged residencies at Tate and Camden Arts Centre. Louise runs the comical performance night Unperforming, is co-founder of free art school AltMFA, and teaches at Goldsmiths and UCA.
Louise Ashcroft is based in London.
Louise Ashcroft
:
︎
︎
Image 1: Mascot for Deptford make in collaboration with a local community group.
Image 2 & 3: Installation shots
Image 4: Object to promote community intimacy, made for a local shopkeeper to respond to his concern about losing close personal connection with some customers now many go to the ASDA instead.
Image 5: Stand-up piece with vocal interlude by Megan Jenkins.
Deptford X Newsletter

Deptford X complies with the Data Protection Act 1998 and subsequent UK law and regulations including the Privacy and Electronic Communications Regulations. You retain the right to opt-out of future correspondence at any point.


We will not pass your details onto third parties.
We use MailChimp to store our recipient lists – all data is stored on a secure server in the USA for the purposes of email newsletter distribution. Under the terms of their Privacy Policy, they endeavour not to, under any circumstances, contact people on our lists, market to people on our lists, sell our lists, or share our lists with any other party, except as required by law or, regarding contacting, except in response to a complaint or other communication directly from an individual on one of our lists. If you would prefer that your data is not stored in this manner, you have the right to opt out from further communications at any point.